We begin a new year, and with it plenty that's new: new aims, objectives and targets we want to achieve! Among them, to reach a lot more of you and to offer the best of ourselves and our land. With that in mind, this year we launch a new catalogue in which you'll be able to find a lot more information about us, fully updated and following the latest online tools so you can see it how, where and when you want! Here we present the new Enrique Romay interactive catalogue 2020. And let us put you in the picture: you'll love it!
The new Enrique Romay interactive catalogue 2020
It has easy navigation, perfect for interacting, adapted to all mobile devices, and a spectacular design! That's how nice our new interactive catalogue looks. An online tool with which we can reach all our customers in a more pleasant and fun way.
What will you find on it? Information about us, our premises, fields, products and processing. In short, everything you need to know about Enrique Romay!
Each section is designed by and for you, in which more information is only a click away and you can interact, while you get to know us a little better.
Our products are now closer to you
Photo galleries, videos, infographics, links and even direct links to our website. You can find all that, together with all the information you need to know about us, on this new tool, with its totally new corporate design. Our aim? For you to share in everything we do, seeing all our products and services, wherever you are and at any time.

A commitment to innovation and new technologies
At Enrique Romay we are committed to innovation and new technologies, and we wanted to begin 2020 by really making our mark with our new interactive catalogue.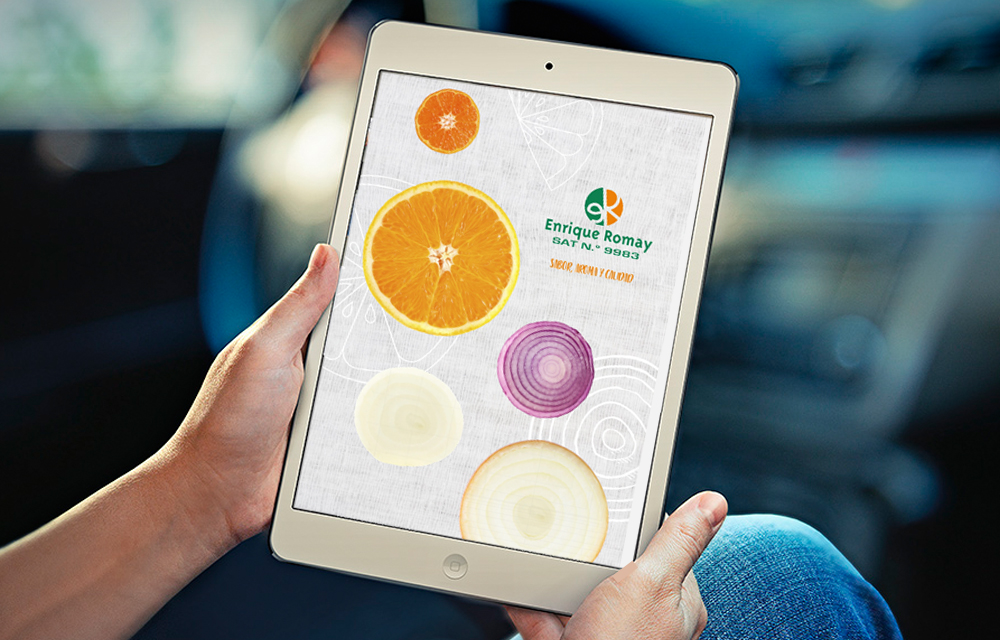 We are a company which, from cultivation to processing of our oranges and onions, until their distribution throughout the world, seeks the highest quality and a guarantee of good service to our customers. And that is just what we have sought to convey with this new online tool for us. Along with our website and refreshed image, this new interactive letter of introduction will bring is much closer to every one of you.
What do you think of our new Enrique Romay interactive catalogue 2020? Do you like it as much as we do? For us, it's been another step in innovation, committing again to new technologies, and above all, to do everything possible to ensure our firm and products reach all of you whenever and wherever it may be. If you want to know much more about Enrique Romay and everything we offer, get in touch with us! We'll give you access to our new interactive catalogue so you're the first to see it!